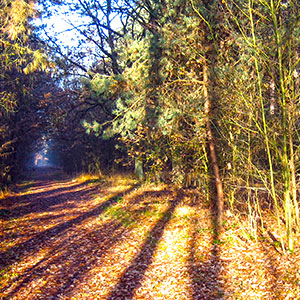 Freezing fog enveloped Weert & surrounding areas at dawn this morning, sufficient to delay my departure for today's cycle ride for an hour or so, purely because of the dangerous lack of visibility.
Once the sun appeared, the fog drifted away but there wasn't much improvement in the sub-zero overnight temperatures.
Wearing multiple layers I set off through the back lanes of Altweerterheide, took a wrong turn and eventually found the access to the beautiful cycle tracks through Laurabossen, an extensive wooded area to the south west of Weert.
I've been this way a few times this autumn, usually from the opposite direction. The woodland cycle paths always appear different as the foliage changes colour and never fails to impress which is why a lot of today's photographs were taken as I passed through.
It's so peaceful here, almost silent, you'd never think there were substantial towns just a few km away.
Before long I arrive at the  junction with the Zuid-Willems Vaart canal and instead of turning right for a quick 20 minute ride back to the warmth of home, I turned left and headed for Belgium.
I crossed the canal at Lozen and then took a road I've not used before, towards Hamont-Achel and Budel.
Nice separate cycle tracks all the way, it's great to be separated from other traffic and much safer too.
At Budel, back in the Netherlands, I turn and head for home, stopping for my banana break near the local airfield, busy with light aircraft and microlight's. The pilot's must be freezing up there!
In a little over two hours I cycled 39.6 km today which will count towards my Cycling Down Dementia target of 1000 km.
November has certainly been my best cycling month this year, with 548.7 km ridden, mostly in cold or wet conditions, to be expected at this time of year I suppose.