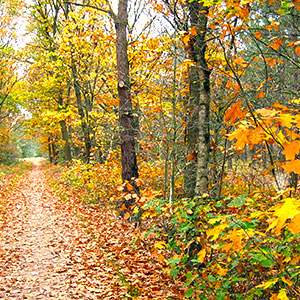 A very cold & gloomy morning greeted me as I left home just before 8 o'clock to cycle a planned route to the north of Weert, in the general direction of Eindhoven.
Wearing four layers under a waterproof jacket, a cap & gloves, I was prepared for the forecast rain but I certainly didn't want it to get much colder.
Apparently it was around 6 degrees but it felt so much colder as I pedalled harder to build up some body heat.
Thankfully there was little wind so I made very good progress and before long I had by-passed Maarheeze and was in the area of Sterksel.
The cycle track here winds through large woodlands strewn with golden autumn leaves.
If I continued at this pace I would be home too soon. I thought I might as well make the most of it now that I'm out so I turned left into a wooded area in order to explore the area around Lieropse Heide & Somerense Heide.
This whole area consists of old peat bogs, marshland, woodland and sand tracks, very tricky for cycling! And then the promised rain came.
Just a few spots to start with, accompanied by a freshening breeze & by the time I had cycled around the north of Someren it was raining hard.
I stopped under a tree to have a banana and to decide which side of the canal to cycle home on.
On the right side is the main road, with cycle path, but with very few trees for a windbreak & shelter from the increasing rain.
On the left side is a much narrower road/track, partially paved and mainly rough track. But both sides of this route were lined by substantial trees, ideal shelter from wind & rain.
So I continued on the left canal bank beyond Nederweert to Schoor where I crossed over & made all haste homewards in very cold, persistent rain.
The phrase 'challenging conditions' easily describes today's 58.8 km cycle ride but, of course, it does count towards my 1000 km total for the Cycling Down Dementia campaign.