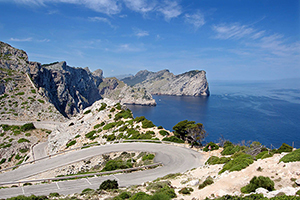 Recently I was contacted by an old cycling pal, who I hadn't heard from for about 45 years.
He had seen this blog & my name seemed familiar. This encounter reminded me of my first (and only) overseas cycling trip.
We were members of Gloucester City Cycling Club who had organised a week long pre-season 'training camp' based at Puerto Pollenca, Mallorca.
Although I wasn't part of the racing group at the club, somebody had dropped out at the last minute and I was offered the place. How exciting! I was just 18 and this was my first ever time abroad.
It was March 1974, and I had just a few days to get myself and my bike organised for the flight to Palma. I had left school & was working so I also had to convince my employer that this 'training camp' was essential for my cycling development.
There were detailed instructions on how to partially dismantle the cycle, deflate the tyres & wrap it in cardboard for the cargo hold of the aircraft.
I'd never flown before so this was all new to me.
I also had to quickly obtain one of those temporary visitors passports from the Post Office. Note that I took £15.00 cash with me as spending money for a week!
The passport photo was taken in an instant photo booth at Gloucester bus station, the 20 mile cycle ride from home apparent from my somewhat dishevelled appearance.
Lost in the monochrome photo is the bright yellow & red cycling jersey I'm wearing from 'V.C (Velo Club) Eropener Over Aardenburg', a Dutch cycling club. I've no recollection of how I acquired this jersey, but remember wearing it until it would no longer fit.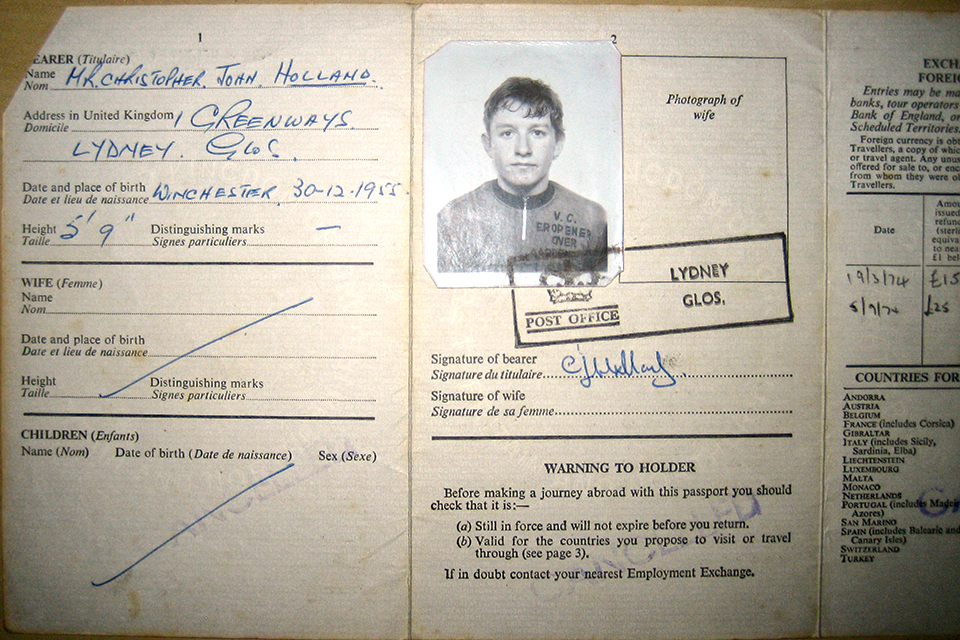 Before dawn, Dad took me, bike & luggage to the meeting point in Gloucester where about 20 of us assembled before loading everything on to a coach destined for Bristol airport.
Checking in at the airport was trouble free and before long we were airborne, destination: Palma, Mallorca.
I don't remember much about the flight, about two hours I guess. The next thing of significance was collecting everything from the baggage area at Palma airport and assembling outside to await the coach that had been arranged to convey us to the Pollenca Park Hotel on the other end of the island.
It was early afternoon and somebody had the bright idea of cycling across the island to our hotel. It's about 60 km and I think about 8 of us decided to ride our bikes instead of going by coach. We were a cycling club after all!
So, bike re-assembled, tyres inflated and luggage placed on the coach, us cyclists set off for Puerto Pollenca.
Riding on the right hand side of the road posed few problems and before long Palma was behind us. Even though it was only March, I do remember it being much warmer than home.
Fortunately, one of our group had been the previous year so was able to lead us straight to the hotel. We stopped once or twice for drinks but I think we made good time.
The bikes were secured in a garage at the hotel, our luggage dropped in our rooms and we convened in the bar to learn about the planned rides for the week.
I remember very little about the specifics but do recall visiting just about every corner of the island, every hill, mountain & back road.
For me, the highlight of the week was the ascent to the lighthouse at Cap de Formentor, a 20 km steep, winding and rough road renowned for it's severe gradients & stunning views.
We made this climb on the last day of the trip and regardless of how tough a road it was to cycle up, the fabulous views and overall experience were worth every ache, pain & puncture.
The descent was no less rewarding, much faster, of course, plenty of braking for the hairpin bends and the broken road surface in places honing bike handling skills no end.
Before I knew it this great adventure was at an end, and Dad was collecting me from Gloucester on a much cooler Saturday afternoon. Back to reality with a bump!