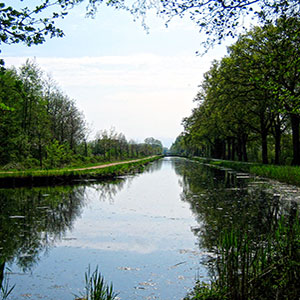 Today I wanted a fairly long cycle ride and it ended up being 81.9 km; very satisfying.
It took some time for the sun to wake up this morning so the first half of my ride towards Deurne in North Brabant was fairly dull & overcast.
To the east of Deurne I found the start of Helenavaart, a disused canal which runs south for about 14 km.
The sun is out by now and it's a very picturesque cycle ride down the narrow road alongside.
Once the canal and road part ways I head home via Beringe, returning on roads used the other day.
It always seems like a different route, travelling in the opposite direction.
On Marissstraat, leading into Beringe, is a fairly substantial vineyard, Vinea Cura. I'm fascinated by Dutch viticulture & I really need to try some local wine some time.