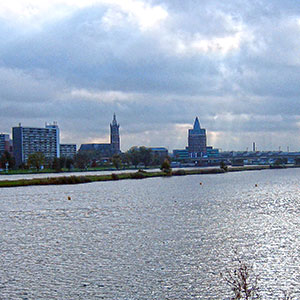 A really cold start this morning, with overnight temperatures below zero, as I headed south towards Roermond and the River Maas.
I often cycle down the right bank of the Nederweert-Wessem canal, which is smoothly paved for the entire 20 km to it's junction with the River Maas.
Today, however, I decided to ride down the left bank, which is only paved for about 5 km, the rest being extremely rough, muddy track, strewn with autumn leaves concealing the numerous potholes. What fun!
There are no opportunities for me to cross the canal to the smooth road so once I start I'm committed to a very bumpy ride.
The sun appears, and before long I'm exploring the byways in the middle of the River Maas opposite Roermond. It was never my plan to visit this interesting city today but it's certainly a destination for the future.
As a turned for home at Horn I ran into very strong, cold headwinds which did nothing to enhance my otherwise improving average speed.
At Baexem, a very old wooden windmill started turning as I passed, which I've not seen often despite all the windmills in the area.
A really challenging ride today but very enjoyable.
Today I cycled 59.6 km towards my Cycling Down Dementia total of 1000 km.