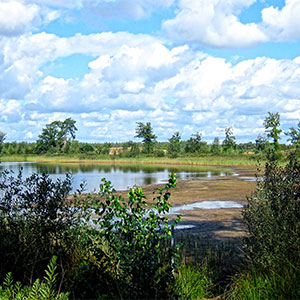 Today's 76 km cycle ride took me northwards into the countryside of North Brabant.
At around the 25 km mark I entered the 400 hectare nature reserve of De Malpie, just south of Valkenswaard.
De Malpie consists of extensive forests, heath-lands and large ponds which are all home to a wide variety of wildlife.
These reserves include a network of paved and gravel cycle paths which were particularly busy today.
Large numbers of recreational cyclists and walkers no doubt taking advantage, like me, of some warm late summer sunshine.
My homeward route, through a corner of Belgium, was mainly along canal bank roads and cycle tracks.
This was a really lovely ride through nature while the sun still shines.