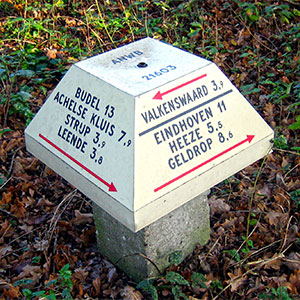 Cloudless blue skies and cool temperatures greeted me as I set off this morning for my 65 km cycle ride to the north west of Weert.
A few kilometres of enthusiastic pedalling was enough to warm me up a little and before long I was on the cycle path through Leenderbos, the first of the forested sections of today's ride.
Altogether about 30 km of today's ride was on forest tracks, normally deserted, but today quite busy with other cyclists tempted out for a ride in the warming sunshine.
The autumn colours of the trees and heath are even more striking in the sunshine so there are a few nice photographs today.
At a junction of cycle paths in the forest at Valkenhorst is one of the familiar direction/distance markers especially for cyclists and walkers.
The journey back home was past the picturesque lakes of De Malpie and again through parts of Leenderbos.