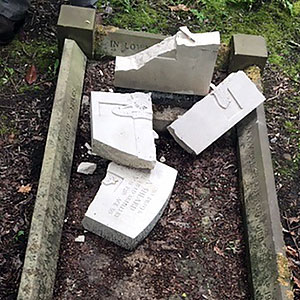 What has the world come to….?
From the Commonwealth War Graves Commission website:
CWGC SADDENED TO CONFIRM WAR GRAVE DAMAGE
"We are deeply upset to confirm that a number of Commonwealth war graves have been senselessly damaged this week in Shipley (Hirst Wood) Church Burial Ground.
It is particularly distressing that someone has shown such a complete lack of respect during the week of the D-Day 75th anniversaries, when so many tens of thousands assembled around the world to reflect and pay deserved respect to the war dead.
This is thoughtless vandalism and our staff have already visited the cemetery to assess the full extent of the damage.
Six of the eight war graves at this site were targeted and we have cleared away the debris and laid temporary markers.
Behind every one of those war graves is a human story of someone who gave their life while on service.
Among them is Sergeant (Air Gunner) Peter Bilsborough, an RAF Volunteer Reserve, from Shipley who died on 27 November 1941, aged just 21.
Another of the local men buried there is Gunner Henry Hardy who left behind his wife Ellen when he died on 19 January 1919.
One of the war casualties whose grave was destroyed – that of Sapper Stephenson – died 98 years ago today.
We will ensure all the damaged war graves at Hirst Wood are returned to a state befitting their sacrifice and continue to care for them now and always.
Our thoughts are with the relatives and comrades of those whose war graves have been desecrated."
Behind every gravestone or memorial there is a human story, often of commitment, bravery & sacrifice.