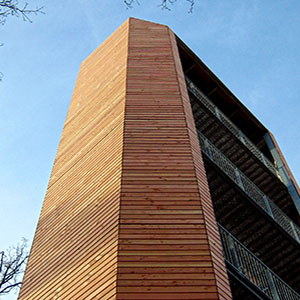 Vantage points are rare in the flat Dutch countryside so I was very interested to learn that a new observation tower has recently been constructed in Vossenberg on the edge of De Groote Peel near Meijel.
It seems that I've actually cycled past the Belfort Vossenberg twice in the last week, but despite it's prominence I managed not to see it, maybe because I had my back to that particular woodland area.
As Vossenberg is only about 20 km from home I thought a visit today would make a great morning ride before the threatened rain arrived.
The tower is easy to find as Vossenberg is a left turning off the main Ospeldijk to Meijel road, about 5 km before Meijel.
Despite much local publicity it's very quiet here today with only a handful of visitors climbing the five flights of steel steps to the observation platform some 22 metres above the ground (Or 25 metres depending on which information you read).
Once at the top I managed to take a few decent photos when the sun decided to appear from behind overcast skies.
When I returned to ground level I noticed a new marker nearby for Liberation Route Europe, many of which I've already seen in Limburg & North Brabant. This particular marker tells the story of a British soldier, Private David McKellar of the Gordon Highlanders.
Moving on, I by-passed Meijel until I found the Noorder Vaart canal and made my way home via some very muddy canal paths.
Today's 41.3 km ride takes my total to 1064.8 km for the Cycling Down Dementia campaign which ends tomorrow.