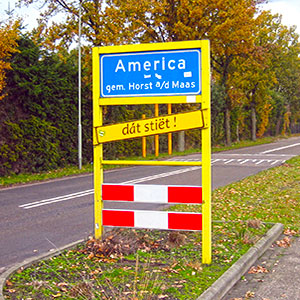 Decided to cycle to America today.
It's quite a long way from home so I set off before 9am in the hope that I would be home in time for tea.
There is actually a small town in Limburg named America but nobody seems to know much of it's history, other than it was formed in the late 19th century.
After passing through America I found the only German military cemetery in the Netherlands, just south of Ysselsteyn, containing no fewer than 31598 soldiers graves from WW1 & WW2.
I then turned south & headed homewards, in warm sunshine and with the wind behind me.
This would be a good time to mention that for the last 20 km or so of today's ride I had to deal with slow deflation of my rear 'puncture proof' tyre.
I had stopped at Meijel for a banana break and when I set off again it was obvious that there was almost zero air in the back tyre. Examining the tyre I could see & feel nothing that would cause a puncture but admittedly I've ridden some fairly rough terrain today.
Maybe my confidence in Schwalbe Marathon Plus Tour puncture proof tyres was misplaced, but for the time being I had to get myself home.
Fortunately I carry a pump, a small lightweight device which required about 100 rapid strokes to get the tyre inflated again. After about 4 km the rear end felt soft again so I stopped and repeated the re-inflation process.
I did notice that the valve collar was very slightly loose and began to think I may simply have a valve leak rather than a damaged tyre/tube.
The tyre was simply not holding air & I had to stop about six times in all, to pump it up, before I arrived home.
As I write this evening, I've no idea really why the tyre won't hold air but my planned Sunday ride tomorrow is postponed until I sort it out.
I cycled 93.4 km today, by far the longest distance I've ridden since starting cycling again in April, and this will count towards my Cycling Down Dementia target of 1000 km.
Since 1st November I have now ridden more than half this distance and have just 491 km to go before 31st January next year.
Update: Sunday 24th….
The tyre valve was indeed leaking but even when fixed the tyre still wouldn't hold air.
Turned the bike upside down and closely examined the tyre itself, inch by inch and eventually discovered a small shard of very sharp glass or grit deeply embedded in one of the valleys of the block tread.
Almost in the centre of the tyre, the 'anti-puncture' protection layer is at it's thickest at 5mm.
It seems to me that this shard may have been picked up at any time, not necessarily yesterday, and continued use simply worked it deeper and deeper into the tyre until the carcass was breached resulting in a small nick in the inner tube, discovered as I immersed the inflated tube in a sink of water.
An hour later the tube was patched, tested and the bike re-assembled again ready for my next ride, possibly tomorrow before the rain arrives.
I don't suppose that any tyre can be guaranteed 'puncture proof' but given the cost (25 Euros each) I expected this kind of puncture threat to be prevented. I'll be carrying tools and puncture repair kit with me in future!