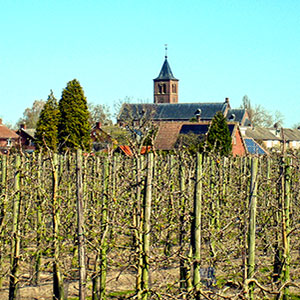 One of the very first Dutch words I learned when I moved to the Netherlands was 'Wijngaard' (Vineyard), not least because I live in an apartment block called 'De Wijngaard', located on a street called 'Maria Wijngaard.
Many years ago the local monastery grew grapes on the land here, now occupied by residential buildings.
All of which is something of a coincidence given my family connection with the wine industry.
Today's 50 km cycle ride took me in a loop generally south of Weert, and right up to the currently closed Belgian border at Bocholt.
Travelling into Belgium wasn't on today's agenda but I came within 50 metres of the frontier at one point.
The return route took me through the small Limburg village of Ell and as I approached on the rural back roads I cycled through many hectares of vineyards, just starting to show greenery in the warm spring sunshine.
The Netherlands is a very small wine producer, making around 1% of the wine consumed here, but Limburg is, apparently, the leading wine growing region in the country.
Now that I've seen the vineyards, I need to try the wine. I couldn't immediately find a winery in Ell so I'll see if it's available locally in Weert at some point.