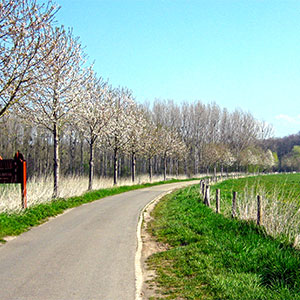 I enjoyed a nice 48 km cycle ride this morning to the north of Heerlen and into Germany once more.
Having made good time through Heerlen, Brunssum and Schinveld I came to the small Dutch hamlet of Etzenrade right on the border with Germany.
From here I rode the 12 km to Geilenkirchen on a magnificent dedicated cycle path. This also forms the border between the Netherlands and Germany.
Much of this route runs through a national park consisting mainly of woodlands and heath.
Today's featured image is from the beginning of this route near Etzenrade.
From Geilenkirchen I again found a great cycle track for another 10 km back towards Heerlen.
The warm spring weather meant there were many cyclists and walkers about today, but riding these cycle tracks is so peaceful, away from motor traffic.