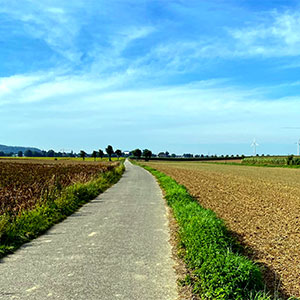 The Tuesday cycle ride was 72 km, ridden on both familiar and unfamiliar roads or forest tracks.
Shortly after leaving home I enjoyed some fabulous early morning views of the nature reserve at Brunssummerheide.
This was quickly followed by the nearby golf course and another nature reserve, Teverener Heide.
Later, while cycling alongside the river Worm, in Germany, I noticed that a brightly coloured dragonfly had settled on the handlebars of the bike.
I was a little concerned that it might become entangled in the brake lever or worse crushed by my hand.
After stopping I got the creature to fly away to some nearby grass by blowing on it gently.
The photographs I took really don't do justice to the beautiful colouring of the dragonfly.
Over 50 km of today's ride were on deserted rural lanes in Germany.
Today's featured image is of the countryside near the hamlet of Floverich.