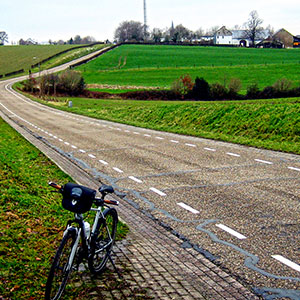 Today I had a nice, but cold, 36 km cycle ride to the south and west of Heerlen.
It was minus 1 degree when I left home and no warmer by the time I got home again.
We've had several days of snow, rain and sub-zero temperatures but having not cycled for a week I decided to wrap up as warm as possible and head out for a while.
I'm getting used to the hills around here now and I'm enjoying the great South Limburg scenery as I struggle up some of the longer, steeper inclines.
Vaals is a town in the extreme south east of the Netherlands, nestled against the borders of Germany and Belgium.
This is where I turned for home and the roads became a little less hilly for a while.
Great to get out for a while, despite the weather and I'm hoping warmer times and longer rides are not so far away.