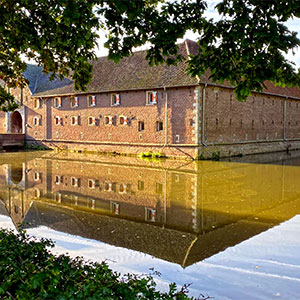 Tuesday's cycle ride was a great 71 km circuit to the north of Heerlen and mostly in adjacent Germany.
For about 16 km I followed the course of the picturesque river Worm, from Rimburg in the south to Randerath in the north.
Just north of the German town of Geilenkirchen I came across the impressive 'Schloss Trips'.
Dating back to the 14th century the castle is undergoing extensive restoration and is not currently open to the public.
Schloss Trips is the subject of today's featured image.
The still water in the expansive moat reflected a perfect mirror image.
The remainder of my ride was along country lanes and cycle tracks, most of which were familiar to me.
Autumn weather has definitely arrived in this region.
The lower temperatures and cool winds requiring an extra layer of clothing to keep warm.