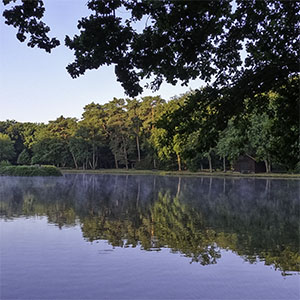 Today's 50 km cycle ride started around 06:00, in the twilight just before the sun rises.
The forecast promised high temperatures again, so I headed north towards Germany long before sunrise.
This is such a beautiful time of the day, the orange glow from the rising sun casting a different light on everything.
Much of my ride today was through woodlands and nature parks.
I cycle this way quite often, always amazed at how very different it all is, depending on the time of day, season and the weather.
Today's featured image is of the lake at Schutterspark, before the sun clears the early morning mist.
From here I continue into Germany.
I pause for refreshments at the chapel near the hamlet of Kievelberg.
This whole area is dominated by flat farmland as far as the eye can see in every direction.
From here I cycle south again, back towards Heerlen.
The highlight of the ride was another excursion through Teverener Heide, a huge nature reserve immediately north of the Dutch border.
So many fabulous views, wherever I looked, with much evidence of the serious lack of rainfall in recent weeks.
Another great early morning cycle ride before it became uncomfortably hot to cycle.