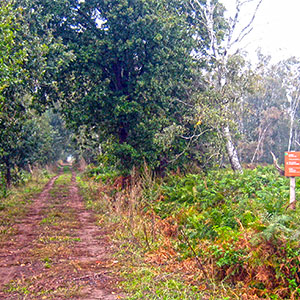 With so much late season cycle racing on TV today, I left home just before 0830 this morning for my 56 km ride to the north east of Weert so I could be home in time for the races.
It seems as if autumn has passed us by at the moment, to be replaced by an early, chilly winter.
Today's route included several un-paved sections. The first one started at the 30 km point as I went 'off-road' through Heitrakse Peel.
This is a 78 hectare nature reserve consisting mainly of peat bogs, heath and woodlands.
The track emerged alongside the disused Kanaal van Deurne which I followed south to the Noordervaart and my route home.