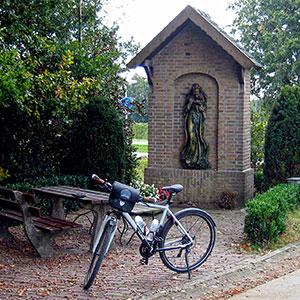 My cycle ride today was an interesting 104 km excursion through the countryside surrounding Weert.
In September 2019 the first stage of the Boels Ladies Tour cycle race started in Stramproy just south of Weert and finished outside Weert city hall.
This is a Ladies World Tour event so all the big names were there and I viewed progress from several points around the last few kilometres of the course.
Unfortunately this year's event was cancelled due to Covid-19.
So I decided to ride the entire stage one route today, most of which was on very small country lanes, today very busy with agricultural machinery.
Much of the route was new to me, despite being so close to Weert.
I left home just after 0800, the temperature was just 3 degrees so I rode quite hard for a while just to get nice and warm.
The map below shows the route much better than I can describe it but it's worth mentioning that my GPS navigator stopped recording on the canal-side road about 3 km from home.
68 km into the ride I stopped for refreshments at Mariakapel, near Someren-Heide where there is a memorial.
The inscription reads:
'This chapel was donated by the widow M. Sonnemans as support to Mary in the war years 1940-1945. She was blessed on May 16, 1948 and was given the name: Mother of our mothers.'