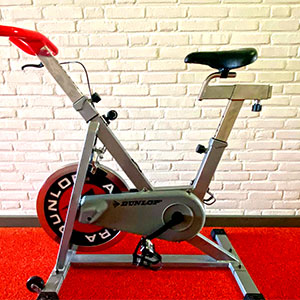 Last week I went to my local gym for a free trial of the facilities.
I was only really interested in cycling exercise and used a spinning bike for about an hour.
This impressed me greatly and I definitely felt a positive benefit from this type of exercise.
However, I feel that the ongoing cost of gym membership is prohibitive.
Although I much prefer to cycle outside, it's not so much fun in cold, wet and windy conditions.
I have therefore acquired a second-hand spinning bike to use at home to supplement my cycling activities over the winter months.
The cost was equivalent to just three months gym membership.
There was no exercise computer fitted so I've added Wahoo speed and cadence sensors.
I have exercised with it a few times already, paired with my Ride With GPS app.
It seems that the exercise benefit over one hour is just about the same as I achieve on a normal cycle ride.
Of course it's not a substitute for the whole outdoor cycling experience of exploring the locality and discovering new places.
But it certainly seems a great way to provide the exercise element of cycling without the adverse weather conditions.
I took over three weeks off the bike in June this year, due to my cataract surgery and my fitness level deteriorated considerably.
It took at least July and August to re-gain an acceptable level.
With the aid my spinning bike I hope to maintain or even improve my overall fitness over the winter months.