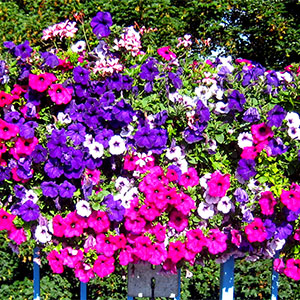 This morning's 50 km cycle ride once again took me over the nearby border into Belgium.
Making good time, in glorious sunshine, I approached the municipality of Hamont-Achel where the unusual church tower is visible from far away.
Also in the town are a spectacular brick built windmill and an even larger water tower.
Moving on, I came to my first canal crossing of the day at Sint Huibrechts-Lille, impressed by the beautiful fresh flowers decorating the bridge railings.
Then it was time to venture away from the paved roads for while as I made my way through the Belgian national forest of Achterste Hostie, about a kilometre north of the village of Kaulille.
Hidden amongst the woodlands is a large rectangular man-made lake, originally formed by excavations for white sand many years ago and now well used by recreational fishermen.
I now headed for home, again crossing the same canal, this time at Bocholt, using the purpose built cycle/pedestrian bridge, which was also adorned with the same type of flowers seen earlier on.