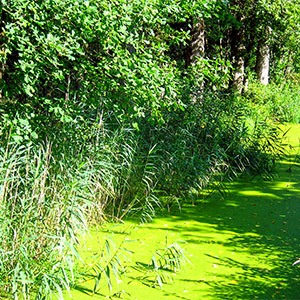 Today I decided that my 86 km cycle ride would again be down into Belgian territory, searching for some hills to test my fitness.
You'll see from the route elevation profile below that I encountered about 30 km of hilly territory taking me to the dizzy heights of almost 100 metres above sea level.
It doesn't sound much but my usual Dutch route profiles are flat-lined just a few metres above sea level.
Today I was glad my bike has 27 gears, especially the lower range which helped me conquer all the ascents from the saddle rather than having to get off and push. It's a simple matter of pride!
Of course gravity and high gears help with the descents which are also a lot of fun, especially on the deserted forest cycle tracks.
About 20 km into the ride I came into the Jagersborg woodland reserve, characterised by extensive swamps and stagnant waterways. The many shades of green in this area really are quite stunning and my photographs don't really do justice to the natural landscape here.
The longest, steepest inclines were at around the 35 km mark, as I skirted around the large man-made lakes at Bergerven where I rewarded myself with a break at a viewpoint overlooking the lakes which I'd missed last time I was in the area.
The ride home was uneventful, following the canals back to Weert, via Bocholt and Lozen.