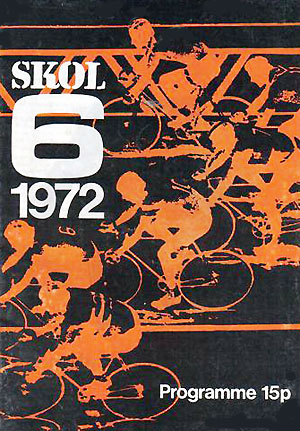 I've been watching the Six Days of London, a six day track cycling event on Eurosport & it's brought back memories of when I went to see the 'Skol 6' at Wembley Empire Arena in September, 1972.
It's fair to say that my sporting heroes, as a teenager, where almost all racing cyclists and when the opportunity presented itself to go and see some of them race on the track, I certainly didn't hesitate.
Dad worked for Victoria Wine, a subsidiary of Allied Breweries, the makers of Skol beer and main sponsors of the Wembley event. Somehow or other he'd acquired two tickets so me and a friend could go.
I was three months short of by 17th birthday, but it seemed quite normal that I should travel from rural Gloucestershire up to London for a cycle race.
To make it interesting, me and my friend Chris Ward planned to cycle about 150 miles to my aunt Carol in Ongar, Essex, stay a couple of nights and travel to Wembley on the 'tube'.
At the last moment Chris dropped out but his brother Rob came in his place. Rob wasn't a cyclist, however, so he accompanied me on his Yamaha FS1E ('Fizzy') 50cc moped, which he always seemed to have in pieces on the garage floor.
Anyway, we set off from Lydney, on the edge of the Forest of Dean, before dawn, intending to make the journey to Essex in about 12 hours. Rob on his moped acted like a 'Derny' and set a reasonable pace for me to cycle behind him whilst creating a shelter from the wind.
We made good progress for a while, but it seemed that the air cooled, two stroke, 'Fizzy' didn't like extended periods of relatively slow running in front of a cyclist and before much longer the moped started to cough & splutter. It didn't fail completely until we were about 30 miles from our destination, when Rob had no alternative but to pedal the moped the rest of the way.
My uncle David was a police sergeant in Ongar at this time and he made arrangements for someone he knew to fix Rob's moped while we were at Wembley the following day.
The Six Day event format is a series of different track cycle racing disciplines held over six evenings, with teams of two riders earning points in each race towards a general classification where the pair with the most points after six days wins the whole event.
I remember little of that September evening's racing, but I do remember the great atmosphere and the sight of cycling superstars speeding past me on the wooden track, only a few feet away from me.
The late Patrick Sercu & Tony Gowland won the Skol 6 that year and in fact Sercu was one of the most successful Six Day riders in history.
It was almost midnight when the racing & post race celebrations finished.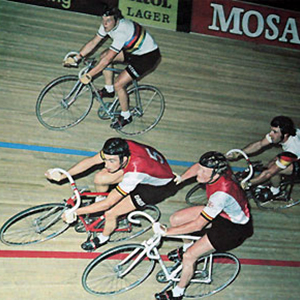 Although I can't remember clearly, Rob and I may have missed the last tube train back to Ongar, but for whatever reason we started to hitch hike on the North Circular Road, in the early hours of the morning.
Before long a police car stopped and bold as brass I asked for a lift back to Ongar! I was, at this time, a police cadet in Lydney and I was just waiting for my 19th birthday to join Gloucestershire Constabulary as a police officer.
This probably came out in conversation with the two officers so before long Rob & I were speeding our way back to Ongar in the back of a police car.
My aunt & uncle knew we would be returning quite late but we had no way of informing them just how late we would be.
Because Essex is a different police area to London the Metropolitan police car could only take us to the boundary between the two areas, so we ended up walking about 5 miles back to Ongar, but what a great adventure we'd had!.
I think my aunt was glad to see the back of us the following day, not because we'd kept them up so late but, as she has often said since, Rob & I ate so much that she had to go shopping for extra food….growing lad's burning lots of calories!
After a huge breakfast Rob & I went our separate ways. Rob headed back to Lydney as fast as his 'Fizzy' would carry him while I cycled off in the opposite direction to my next stop on my tour of relatives in south-east England.
Hard to believe that 47 years have passed since then, where has the time gone?