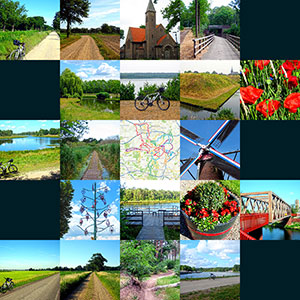 June has been an epic cycling month for me.
The continuing warm weather has encouraged me to cycle more frequently, for longer days and greater distances on my fabulous new bike, "ANNA".
I took 19 rides totalling 1215.10 km at an average speed of 19.59 km/h, again getting closer to my 20 km/h objective.
At the beginning of the month I set myself the objective of cycling 1000 km, which I've exceeded by a considerable margin but it's not something I'm likely to increase much further.
I think I'm reaching my natural peaks of fitness and endurance so I'm more than happy with exceeding that particular objective.
Also this month one of my rides was 127 km, the longest so far in my cycling renaissance and two more rides of 100 km contributed to the total.
A collection of my June cycling routes and distances can be found here.
By cycling greater distances, further from home, it has enabled me to explore many new and interesting places as well as meeting more fellow cyclists all enjoying their own particular adventures.
I like to keep a photographic record of my travels so during the month of June over 500 new images were added to my online gallery here.