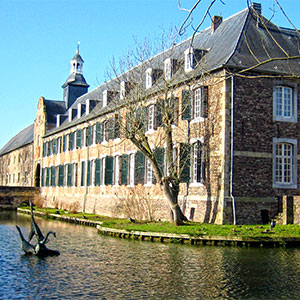 Another great day for cycling 39 km among the rolling hills of South Limburg.
Temperatures peaked at 19 degrees as I struggled up and freewheeled effortlessly down numerous roads of varying gradients.
I quickly realised it may be time to replace my winter weight leggings with shorts. Maybe tomorrow!
Cloudless blue skies helped with the photographs and today's featured image is of Kasteel Wijnandsrade which came into view at around the 15 km mark.
As I rounded a bend the castle was dead ahead of me, perfectly framed in an avenue of trees. Naturally I stopped for a few pictures before moving on to Hulsberg and beyond.
I'm feeling my fitness levels improving with every ride now, probably because I decided on a regime of building up the kilometres gradually each day.
I'm not training for anything in particular I just don't want the feeling I'm hitting a wall when confronted by the next long, steep hill.
South Limburg is predominantly hilly terrain, very hilly and steep in places.
I expend as much energy riding 40 km here as I did riding 80 km on the flat roads around Weert but it really is great fun exploring my new surroundings.