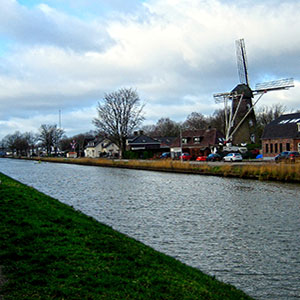 We've just about seen the back of those unwelcome visitors, Ciara & Dennis here in Limburg although there was still a fairly strong breeze as I set off on today's 43.7 km cycle ride, the first for eleven days.
Heading north east along the canal out of Weert I had the wind straight in my face until I turned into the Laurabossen woodlands after about 10 km.
I had no particular route in mind today, just happy to get out on the bike again so I took unfamiliar lanes and tracks until I found myself in Bocholt, Belgium.
There was much evidence of severe storms having passed through the area with fallen trees & many dead branches everywhere.
Cycling towards Lozen, also in Belgium, I had changed direction and once I re-joined the canal track to head home the strengthening wind was behind me, making the last 15 km much easier than earlier.