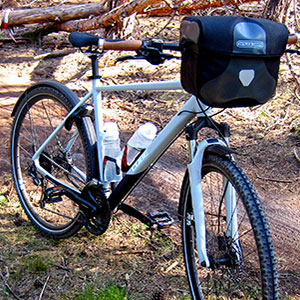 For once the highlight of my cycling day wasn't the glorious weather we're currently experiencing here in Limburg or the fabulously flat terrain, but the 30 km maiden outing on my new cycle.
After a four week wait my sparkly new Cube Nature Pro, also known as 'ANNA', arrived yesterday morning and the afternoon was spent fitting the various 'must have' accessories I need to create my perfect cycling companion. These included mudguards, frame lock, two drinks bottles, tyre pump and a cavernous handlebar bag to carry plenty of bananas.
Essentially this is an all-terrain, all-weather trekking/touring bike, made in Germany by Cube, primarily known for their excellent mountain, gravel and off-road bikes.
Today's ride was intended to familiarise myself with a completely different cycling experience to my old city bike, 'Lisa', and to make any minor adjustments needed along the way.
In the first 5 km I established that the hydraulic disc brakes were extremely efficient and the rapid shift 27 speed drive train an absolute joy to use.
After this I just enjoyed the ride, through local woodlands, unpaved tracks & surfaced lanes, stopping in the middle of Laarderheide, next to the small wildfowl pond, for my banana break. This area is only a few kilometres from home but is somewhere that remained undiscovered by me until today.
I think this cycle will be much more comfortable over longer distances, which I aim to put to the test over the coming days.