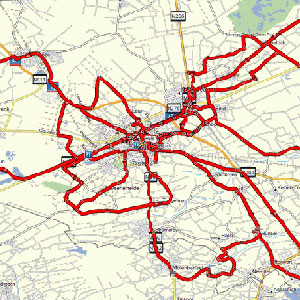 It's been a month now since I acquired my first cycle for about 50 years.
I've managed to get out on 10 different days, exploring the surrounding Dutch countryside & even visiting Belgium on one occasion.
310 km have been covered in total, so an average of 31 km for each day I've ridden.
Not so bad for a 63 year old returning to cycling, but a long way to go to achieve the 200 km plus a day that I used to achieve in my youth.
My legs & lungs have remembered what's expected of them, and a 3 kg weight loss this month means slightly less pressure on the saddle.
However, the tyres are now worn out & am waiting for the delivery of new ones, so I put together a collection of this months routes.