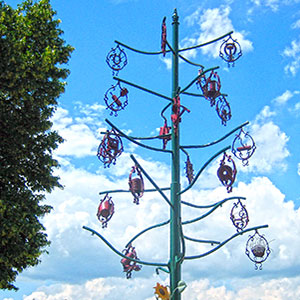 More extensive thunderstorms overnight accompanied by torrential rain meant a lot of big puddles and many waterlogged cycle paths on my 23 km ride today.
Even close to home I'm still making new discoveries, like the elaborate steel tree at Nederweert-Eind and the very narrow cycle tracks through the woodlands along the eastern edge of De Banen, a nearby nature reserve.
I've explored this whole area before except for the woodland cycle tracks and it's always different, depending on the weather & lighting conditions.
I sat overlooking the lake for quite a while, just watching and listening to the bird life covering the whole area.
Only a few photographs today but enough to give an idea how green and pleasant this area is.