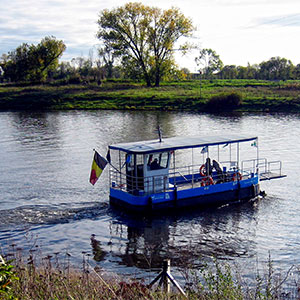 I left home at around 0830 this morning for my 56 km cycle ride down to the river Maas.
The clocks turning back last weekend, making for lighter mornings and the decent weather forecast promised a great morning on the bike.
My indirect route on country lanes soon took me to the picturesque village of Thorn, where the roughly cobbled streets are very difficult to negotiate on a cycle.
At the 18 km mark on my route I passed through the Belgian village of Kessenich and got my first sight of the extensive gravel lakes that adjoin the river Maas in this area.
There's a new cycle path along the edge of these lakes which took me as far as the ferry at Ophoven.
From here I explored a few km of the Maasdijk before returning just as the electric ferry was making it's first crossing of the day.
This is a seasonal service from Ophoven, Belgium to Ohe en Laak, Netherlands which I've used before but didn't figure in my plans for today.
Today is the last day of operation for this particular Maas ferry and service will resume on 1st June next year.
My route home was via my preferred backroads in warm sunshine and very little wind, for a change!