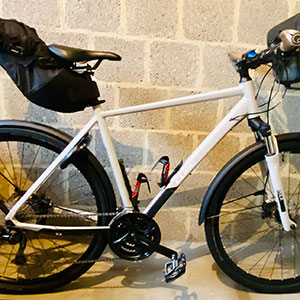 Extreme weather conditions for much of this month so far has made it impossible to cycle outside safely.
I decided to make good use of the time by completing an extensive winter maintenance programme on my cycle.
My Cube Nature Pro is now 21 months old and has covered 9835 kilometres.
I always take good care of my bike, regularly checking, adjusting and  lubricating where necessary but this time it needed a little more work.
Here is a summary of everything I did:
Replace rear gear shift cable (upgrade to stainless steel)
Check and lubricate all cables
Remove, clean and inspect triple chain ring assembly
Remove, clean and inspect drive chain
Replace rear 9 speed gear cassette with different ratios (to make the hills easier!)
Replace tyres with Schwalbe G-One Allround 45-622, inner tubes, rim tape and fill with Schwalbe Doc Blue tyre fluid
Acquired Topeak Backloader 15 litre seat pack for rides requiring overnight stops
Finally, a thorough inspection, adjustment and clean of the whole cycle
The Cube Nature Pro has already proved to be a great choice of cycle for the type of riding I do and I'm sure it will provide me with many more kilometres of fun cycling adventures.