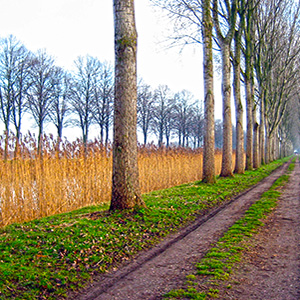 Yesterday's cycle ride was more interesting than usual.
About a third of the distance was ridden on un-paved canal paths & forest cycle tracks around the Groote Peel National Park, near Ospeldijk which provided a more scenic route to Meijel where I spent almost three hours at a cycle shop, RideBike.
This is a Santos World Store, specialising solely in Dutch built Santos cycles and owned by Jan Arts who has been working with these excellent custom built cycles since Santos was formed in 1997.
It's fair to say that I'm in the market for a new bike, much better suited to the type of cycling I'm doing and after much research it's most likely my next cycle will be from Santos.
I could've stayed chatting to Jan for even longer but I needed to ride the 20 km home before dark as my existing dynamo lighting isn't that bright. No doubt I'll continue my conversation with Jan before much longer.
Yesterday's 47.5 km cycle ride counts towards my 1000 km target for the Cycling Down Dementia campaign and I'm now left with just 82 km to ride in the next week.