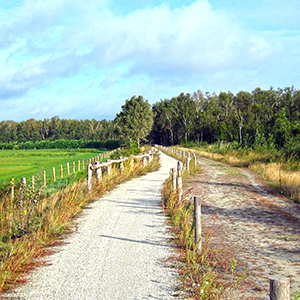 De Groote Peel is a Dutch National Park to the north of Ospeldijk and extends for about 13.4 square kilometres. It comprises of peat bogs, marshland, woodlands & scrub, providing a natural habitat for numerous species.
Today's 56.9 km cycle ride was planned in advance so I knew that there are no cycle paths across De Groote Peel but a really interesting cycle route around the perimeter.
Starting at the visitor centre I went in a clockwise direction around the park, arriving back where I started about two hours later.
I then walked into the park for about 1 km, found the WW2 airman's memorial and the first of many flooded peat bogs, the elevated observation platform offering a decent vantage point.
Around my circuit I came across several information boards relating to 'Death Valley De Peel', giving details of various military activities 75 years ago & more.
This is an initiative of WW2 history organisations & local authorities in North Brabant which had previously escaped my notice but looking at their very informative website, I now have a few ideas for interesting future cycle rides.
My route home was meandering, avoiding main roads whenever possible and as is often my habit I stopped near Schoorbrug not too far from home to see that a new information board had been erected since I last passed this way (about a week ago).
I had to wait until I got home before I could understand the story as the board was just in Dutch. The associated website is very informative and the story of Schoorbrug, in English, may be found here. There is also yet another WW2 cycle route for me to follow!
A really great morning's cycle ride.