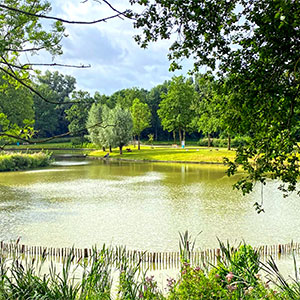 Sunday morning's 55 km cycle ride was an extremely windy affair.
Wind speeds of 20-25 km/h would be great for sailing but not so friendly for cycling, especially directly in the face.
The upside of this, of course, is when such strong winds are behind you suddenly feel like you're riding an eBike or motorcycle.
In fact a friend said that riding an eBike was just like having the wind behind you….all the time!
Something for me to think about another day.
Much of today's ride was on picturesque forest cycle tracks and quiet rural lanes through the rolling hills of South Limburg.
The featured image today is from part of a nature reserve at Nierhoven, near Nuth.
Not long after passing through the village of Eys I heard the sound of a steam whistle, maybe from a train.
I had just passed under a railway line so I climbed up the embankment just in time to see a steam train pulling several carriages full of people.
I later discover this is the Miljoenenlijn, a preserved railway that operates periodically from Schin op Geul to Kerkrade.
Another great morning out on the bike, with some stunning scenery and perfect cycling roads through the countryside.
This evening saw one of the most amazing sunsets I've seen here, so I've included it in today's photos.