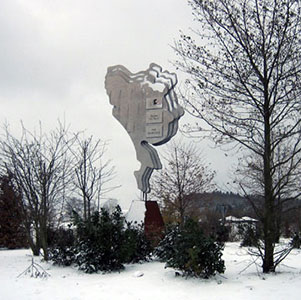 This was a totally un-planned excursion to Germany for a few days, and I lost sight of the fact that it's late November and there may be inclement weather about.
Living in Scotland I'm used to poor weather a lot of the time so maybe I just didn't think about it.
Almost as soon as I arrived at the Hotel Forsthaus in Volkesfeld, it started to snow hard & fortunately the 'bike was safely parked in the garage.
This left me with the problem of what am I going to do for the next three or four days? My return home was flexible, thankfully.
Christian's hospitality is always great when I visit here but I couldn't really spend all day as well as all evening in his bar, could I?
Christian has a cousin who runs a garage in the village, so I hired a car from him for a couple of days, my idea being that four wheels are safer than two when there is snow and ice about.
The famous Nurburgring race circuit is not so far away, so I decided to go & take a look. I had passed that way as I arrived here the other day, filling the 'bike with petrol near the main entrance.
There really was a lot of snow about, just about okay for cars but not at all safe for motorcycles. Volkesfeld is a very small village, off the beaten track somewhat, so clearing the roads of snow is a little slow to say the least.
More snow fell each night and on the morning I'd decided  to leave for home, the snow was thicker than ever.
Okay, now the problem is that the hotel is due to close shortly for the winter and of course I can't stay here indefinitely.
Studying the weather forecasts whilst sipping ice cold beer and eating trout with almonds fresh from Christian's very own trout pond, I decided that I would leave the following morning, whatever the conditions.
I assumed the main roads & motorways (seldom used by me when motorcycling) would be clear of snow, so I had just a few kilometres of minor lanes to endure before I got to a main road and then a motorway, even if it was not the most direct route back to Ijmuiden and my ferry home.
Riding very slowly & carefully, with both feet gently dragging along the road, it didn't take long to discover the main road hadn't been cleared yet and the motorway had just one lane cleared.
This continued well into the Netherlands, where it was raining hard with very little evidence of snow ever having fallen.
Despite all this, I arrived long before the ferry and once back in the UK was greeted by clear blue skies and warm winter sunshine.
Maybe motorcycling in Germany in the winter is not such a great idea, but it was still something of a challenge and, of course, great fun!