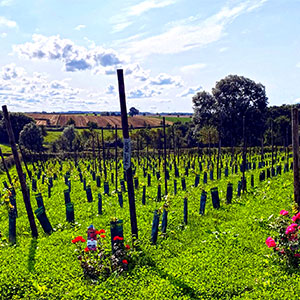 Saturday's 59 km cycle ride was a leisurely meander through the rolling hills of South Limburg.
The area so the south-west of Heerlen is quite stunning in the early morning sunshine.
As the day went on it became quite hot as I negotiated a series of fairly long, steep hills.
These are getting a lot easier for me to climb nowadays and what goes up must come down, with long fast descents along country lanes and forests.
Today's featured image is of a newly established vineyard near the Dutch hamlet of Terhorst.
It appears they are growing the pinot noir grape and judging by the young vines it will be some time before wine is produced from this vineyard.
Typically newly planted vines take at least three years to produce grapes of wine making quality.
Cycling through this area today I noticed quite a few vineyards, some obviously newly established but I have yet to try Dutch wine.