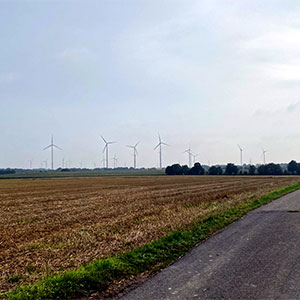 Tuesday's 66 km cycle ride was again through the rural backroads of Germany.
The map below shows the track of the ride, to the north and east of Heerlen.
Once beyond Geilenkirchen the countyside is wide open space, and a little higher than the surrounding terrain.
This makes it the ideal location for many large wind turbines which today were very busy in the strong winds.
I didn't realise how noisy these giant turbines are in operation, with a distinct 'whoosh' from the rotating blades and the hum of the turbine 80 metres above me.
Today's featured image is from the area between Prummern and Apweiler where there are at least 100 operating turbines plus many more under construction.
About 15 km west, beyond Geilenkirchen is a large NATO airbase, currently home to multi-national squadrons of AWACS early warning aircraft.
There was much activity in the air today as I cycled through the countryside.
I managed to get a picture of one of the huge AWACS aircraft as it climbed into the dark clouds above.
I'm really enjoying my cycling at the moment but today's headwinds in exposed places made my legs feel like they have cycled twice the distance.