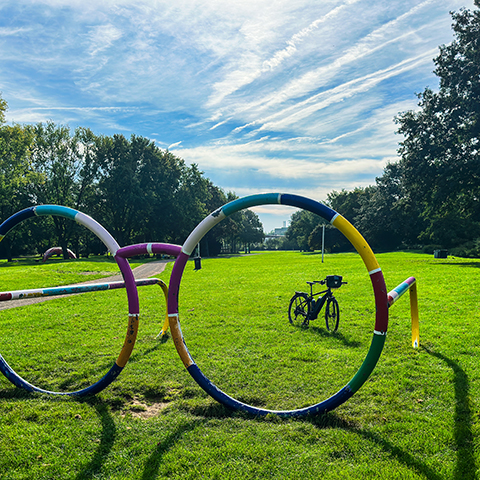 I left home before sunrise today for a great 106 km cycle ride to the east of Heerlen, mainly through open German countryside.
The rising sun during the early section of the ride created some interesting 'sunrise' photographs.
About 28 km into the ride I came across the Blausteinsee, a resort lake so tranquil at this early hour before the visitors arrive.
I've passed this way a few times now, but the images are always so different.
Further into the ride I came across another inland resort lake.
This was the Durener Badsee where security is so tight that I had to take pictures through reinforced steel gates.
There are many of these resort lakes in this part of Germany.
Most are man-made, having been previously excavated for gravel or sand, now re-purposed as leisure resorts.
Moving on, I soon enjoyed a nice 20 km stretch on the cycle path alongside the picturesque Rur river.
Today's featured image is of the giant spectacles alongside the Rur near the small German town of Birkesdorf.