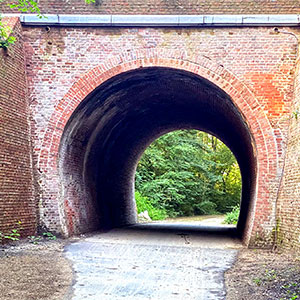 Tuesday's cycle ride is the first of a two day tour through Belgium to explore RAVeL Ligne 38 and Ligne 39.
These routes are part of an extensive Belgian cycle route network known as RAVeL.
RAVeL stands for 'Reseau Autonome des Voies Lentes' which translates to 'Autonomous Slow Lane Network'.
It is therefore intended for cyclists, pedestrians, horse riders and those with reduced mobility.
Motorised vehicles are strictly prohibited.
Much of RAVeL follows the course of now disused railway tracks or canal towpaths throughout Belgium.
Ligne 39 starts at a point just to the east of Gemmenich, Belgium and runs west for about 5 km to Plombieres.
This morning I left home early (05:50) to ride the 18 km to the starting point.
As Ligne 39 terminates in Plombieres so does Ligne 38 begin for a duration of 43 km in a westerly direction.
Ligne 38 terminates at Chenee on the edge of Liege where I am staying the night in a B&B in the old town area.
Today's total distance cycled was 75 km.
The featured image today is a short brick built tunnel between Hombourg and Aubel.
The routes and the scenery throughout the day have been simply stunning so there are many photographs.