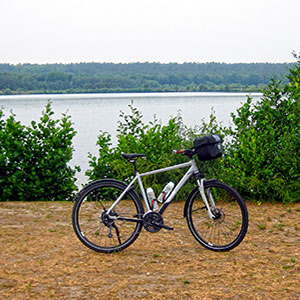 Today's 72 km cycle ride took me deep into the Belgian province of Limburg, where I found the impressive nature reserve at Bergerven.
This area consists of extensive woodlands, moorlands and heath centred around large man-made lakes, totalling over 500 hectares.
The lakes were originally created by excavating for gravel, from 1973 to 1992 and are now used for recreational fishing and water sports.
Bergerven is a great place to cycle and I hardly saw another soul all day, so very peaceful.
I did, however, encounter quite a few long, steep hills, that I'm not used to closer to home but managed to cycle up every single one, thanks to the lower range of the 27 gears on my new bike and freewheel down the other side while I caught my breath. What fun!