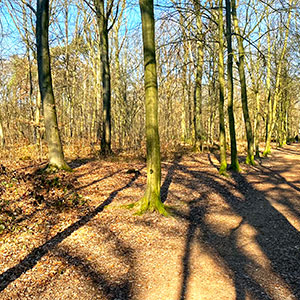 This morning's 49 km cycle ride was very similar to a route I cycled last autumn but in the opposite direction.
It feels like a very different ride and today's warm sunshine was most welcome.
The ride included the nature reserves of Brunssummerheide, Rode Beek and Schutterspark.
Today's featured image is of the cycle track through the woodlands of Schutterspark.
There were a few other cyclists and dog walkers enjoying this tranquil area.
This was not such a long ride for me today but still thoroughly enjoyable to cycle here again.