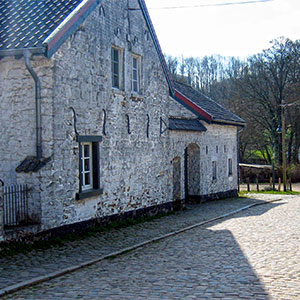 My 41 km cycle ride this morning took me south of Heerlen and into Germany for over half the ride.
Much of the route was on minor country lanes and farm tracks.
I knew there were a couple of kilometres of un-paved tracks ahead but was a little surprised to come to a dead end on one occasion with the GPS sending me along the edge ploughed fields.
There was no recognisable track and it proved too difficult to ride so I had to resort to walking the bike for about 200 metres.
Further along the route, I descended into the ancient German village of Seffent on the outskirts of Aachen.
The steepness of the road and the extremely rough cobble-stone surface made it quite difficult to prevent the wheels from leaving the ground.
Cobbles are very common in this whole area but these were particularly uneven and caused me a few problems when trying to slow down.
Cycle wheels need to be firmly planted on the road surface for brakes to work!
Nice, warm spring weather today encouraged me to wear cycling shorts for the first time this year.