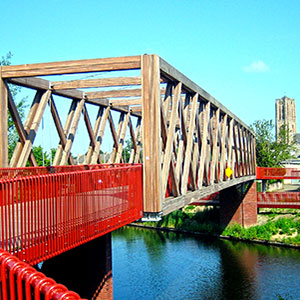 I cycled 127 km today, by far the greatest one day distance ridden since I started cycling again last year.
Essentially, today's ride was a large loop around the top of Eindhoven, the fifth largest city in the Netherlands, with a recent addition to the route to include Oirschot, to the west of Eindhoven.
I left home at just before 06:00 and made good time through the woodlands & nature reserves of North Brabant as I headed for Oirschot on the northern banks of the Wilhelminakanaal.
I've never been to this area before so today really was a new experience for me, especially as I had read so much about the new 'Oirschot' bridge.
In May this year a new cycle/pedestrian bridge was completed over the canal at Oirschot and was named 'Stonner-Meijwaardbrug' after two Dutchmen who gave their lives during the liberation of the Netherlands in 1944.
The wood & steel construction is so new that it doesn't yet appear on GPS mapping systems so it's a little difficult to find.
Once there, however, I rode over the new bridge twice just to make sure I got photographs from every possible angle!
This is yet another great example of continuing Dutch investment in cycling/pedestrian infrastructure which also serves as a fitting memorial for two brave young Dutchmen. It really is impressive.
Moving on, I cycled across the top of Eindhoven along the canal bank until I turned south for the familiar ride back to Weert.