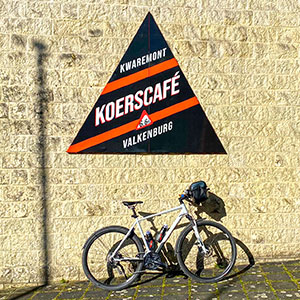 Today's 53 km cycle ride was through some of the hilliest terrain in the whole of the Netherlands, in South Limburg.
Where I live in Heerlen is surrounded by hills and every road leaving the city is an uphill cycle ride.
It's been sometime, maybe six months, since I used the road east to Ubachsberg.
In that time the municipality has constructed a superb cycle path alongside but separate from the road.
The road itself is now narrower with traffic calming measures.
The cycle path is wide, smooth concrete and really nice to ride on.
There is not much they could do about the steepness of the 2.4 km ascent but it certainly seemed easier to ride than the last time I was there.
From here I made good progress up and over a series of quite challenging hills until I paused for a while in Valkenburg.
The featured image today is outside the 'Koerscafe' which was closed for business today.
Sibbe was the halfway point in today's ride.
This small village is perched at the top of a particularly steep 2 km climb out of Valkenburg.
As for the remainder of my ride today, I will let the pictures do the talking.