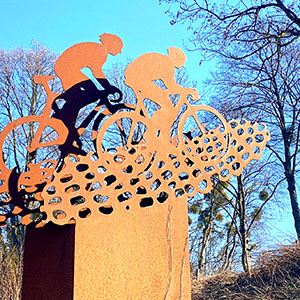 Today's 81 km cycle ride was mainly through the hills of South Limburg and along the flat cycle tracks in the Maas river valley.
It was before 09:00 when I left Heerlen when the temperature was still around zero degrees.
By the time I'd cycled uphill for about 5 km I was nice and warm and the sunshine was also most welcome.
The highlight of today's ride was the chance discovery of the Wielermonument Maasberg, near Elsloo.
This is a beautifully crafted rusting steel depiction of two cyclists climbing a cobbled hill.
It is placed at the bottom of the Maasberg, alongside the Julianakanaal.
It commemorates the significant number of past amateur and professional cycle racers who originated from the Elsloo/Stein area.
The Maasberg itself is a very steep, cobbled ascent towards the village of Elsloo.
I had to ride this myself, of course, to follow the wheel tracks of so many others who went before me.
It's only 200 metres long but gains 60 metres of elevation so I really needed all my strength as well as the lowest gear my bike has to offer.
The roughness of the stone cobbled surface makes the climb even more challenging.
I certainly needed to pause for breath at the top before continuing on my way.
The Netherlands has such a rich cycling history, especially here in South Limburg where some of the world's greatest cycle races are held each year.
It's a real privilege to be able to cycle these roads whenever I wish and hopefully I'll get to see some of the races this year.