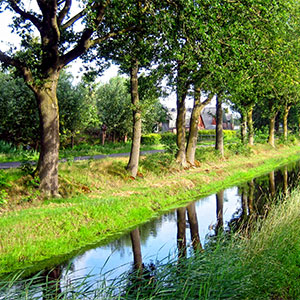 For my 53 km cycle ride today I decided to head north along the mainly unpaved right bank of the Zuid-Willemsvaart canal, passing three sluices (locks) along the way and bypassing the town of Someren.
By now it was extremely windy and rain was threatening but it never actually arrived.
Because I left home a little after 0700 I arrived at my halfway point, the North Brabant town of Asten, just a little too early to stop at a cafe in the town square for coffee.
The skies are now overcast and it's not as warm as it should be so I started on my return journey south in the face of an ever increasing headwind.
Fortunately much of my route home was protected from the wind by avenues of trees but by the time I got home I certainly felt as if I'd just cycled twice as far.