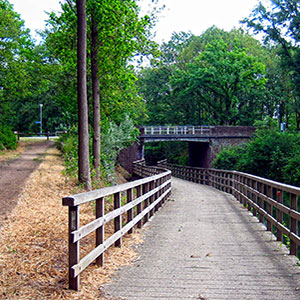 It was raining lightly as I left home for today's 61 km cycle ride.
I had waterproofs with me but decided to set off on my planned route around the Leudal area without putting them on.
When I got to Swartbroek (5 km) it was raining harder, enough to make the roads wet so I took shelter in the town square while I decided whether to put the waterproofs on or not.
Showers were forecast but I could see bright sky in my proposed direction of travel and dark clouds behind me, so it was time for the waterproof jacket and to continue on my way.
By the time I stopped for my first banana break (20 km), the rain had stopped, the sun was out and my rain jacket was firmly strapped back under the saddle.
Approaching Meijel I came to the Noordervaart canal, which is no longer in use and followed it eastwards for 2 km until the Kanaal van Deurne branches off to the left.
As today marks the 76th anniversary of D-Day, the allied invasion of Normandy, it's perhaps appropriate to remember that later in 1944 this particular area of the Netherlands was the scene of much heavy fighting between advancing allied forces and the retreating German army who were essentially being forced back over the river Maas, towards their homeland.
Realising the strategic importance of these particular canals to the advancing forces, the Germans destroyed many bridges in the area in an attempt to delay the advance.
However, this was only partially successful as Royal Engineers hastily constructed a Bailey bridge over Noordervaart, less than 1 km from the destroyed bridge at the beginning of the Kanaal van Deurne, famously named 'Cameron Bridge' after the Queen's Own Cameron Highlanders and the 51st Highland Division  who were instrumental in this particular action.
Moving on from here I continued north along the canal-side cycle path until I arrived at another bridge at Heldensedijk where I was to turn south-west and head for home.
Here's another great example of innovative Dutch cycling infrastructure where a wooden boardwalk has been constructed for around 200 metres under the bridge, to allow cyclists and pedestrians to continue along a level path alongside the canal rather than negotiate the incline up to the busy road ahead then8th down the other side.
From here I made my way back home, fighting ever stronger headwinds all the way.