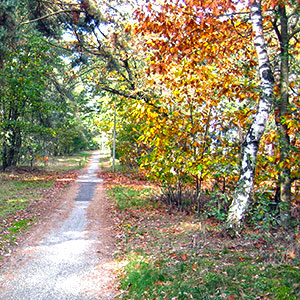 Such a glorious sunny morning here in Weert, and quite warm.
Couldn't decide whether to go out for a cycle ride or watch England soundly beat New Zealand in the semi-final of the Rugby World Cup in Japan.
Easy decision really:I did both & witnessed probably the best game of rugby I have seen in over 50 years of following this crazy sport.
Yes, it really was that good and England are in the final next weekend, against either Wales or South Africa, who play tomorrow.
So I left home a little later than usual, and headed north out of the city, in search of different forest tracks to ride.
Weerterbos is a large wooded area a few kilometres out of Weert and some of the cycle tracks through the trees are really narrow and rough but great fun.
I might have all-terrain, puncture proof tyres on the bike but it's certainly not an off-road cycle….maybe I need something different for the 'winter'.
Made good progress today, despite all the photo stops and my average speed is creeping up gradually. Not that I'm in any hurry but its an indication of my improving fitness.
Arriving home in good time I noticed a new sign had been fixed to the outside of the building, 'De Wijngaard', (The Vineyard), so maybe grapes were grown in the vicinity in years gone by.