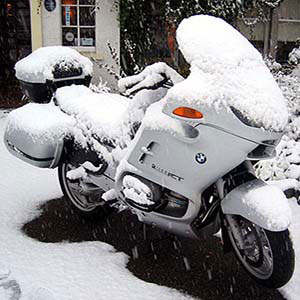 19th-23rd October.
It's no joke riding a big motorcycle, two-up, in snowy conditions and I for one wouldn't do so from choice.
I'm one of those motorcyclists who keeps a keen eye on weather forecasts just to make sure temperatures are well above zero & that there's no snow & ice about.
We decide to have a few days up in the Highlands & the Isle of Skye, probably the last opportunity we would get this year, convinced that the weather would be kind o us.
Our first two nights were spent at the excellent 'The Boat' at Boat of Garten  in Badenoch & Strathspey.
We'd stopped here two years ago, but were in a nice warm car then. This is a lovely hotel, comfortable rooms, log fires, inviting bars & excellent food.
The second day was spent exploring the Speyside area of Scotland in glorious sunshine but freezing cold.
We were glad to get back to the warm hospitality of The Boat that afternoon.
After breakfast the following morning I went outside to see a fairly thick covering of snow everywhere & even the minor road outside was not completely clear of snow.
We'd had heavy snowfall overnight, but the road outside was cleared. It was only a short distance to the A9 but the first potential obstacle was The Slochd Summit, a very high section of the A9 often affected by adverse weather conditions.
As we optimistically set off just after breakfast, fresh snow was falling & settling on the road. We continued slowly and turned right onto the A9 towards Inverness where the road rose steadily to Slochd.
Oncoming truck drivers were flashing their lights at us as if to say 'don't even think about it', but I continued, very slowly, feet on the ground, no braking and only very gentle throttle control.
Before long we went over the summit and it's all downhill to Inverness, I could see sunshine ahead and guessed the conditions would improve as we approached sea level.
And they did.
Good progress was made as we headed west to Skye, blue skies and bright sunshine had replaced the earlier gloom of low, grey snow-filled clouds.
Late afternoon we arrived at the nice & cosy Dunvegan Hotel overlooking the loch at Dunvegan, home for the next two nights.
This was a really great find, quiet, great view, comfortable rooms & excellent food and drink.
We spent the next day on foot, exploring the local castle and taking a loch-side walk. Very bracing!
Our journey back to Edinburgh the following day was uneventful, weather cold but bright sunshine overhead.
My 'bike was filthy and would take at least the next day to get it pristine again.
This was a really enjoyable winter trip with some serious challenges but, as always, great fun.