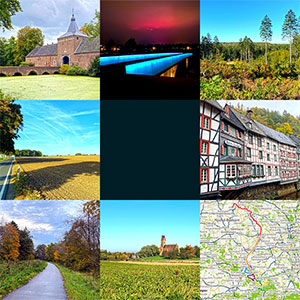 Weather conditions here in South Limburg have been truly awful this month.
Heavy rain and extreme winds certainly put a dampener on my cycling activities.
However, the six rides I did manage were a little different to normal and among the more interesting I've done this year.
Only two of the rides started and finished at home.
The remaining four rides are what I call 'motor assisted'.
By this I mean my friend with a car plus cycle carrier takes me to my chosen start point and I cycle onwards from there.
The autumn days are getting shorter and I always want to explore new routes further from home so this is an ideal solution.
Sometimes, however, cycling in poor conditions is unavoidable.
For instance rides that involve an overnight stop which requires booking in advance.
This month I cycled a total of 419 km and the total elevation gains were 2713 metres.
The longest ride was 106.2 km from a starting point at Oss, also my longest one day distance this year.
The greatest elevation gain was 785 metres on the ride to Hurtgenwald.
Other highlights this month were the overnight stays in Venlo and Monschau.
There are 276 new images in my galleries here and the October collection of routes is here.
Who knows what cycling adventures November will bring?
Our clocks having gone back an hour last night, the mornings will be lighter earlier which will encourage early starts, weather permitting!