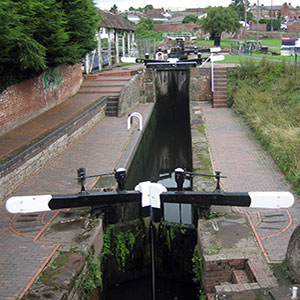 Came upon Stourport on Severn today, never been here before.
It is centred on a canal basin & being inquisitive I wanted to know more:
"Stourport came into being around the canal basins at the Severn terminus of the Staffordshire and Worcestershire Canal, which was completed in 1768. In 1772 the junction between the Staffordshire and Worcestershire and the Birmingham Canal was completed and Stourport became one of the principal distributing centres for goods to and from the rest of the West Midlands.
The canal terminus was built on meadowland to the south west of the hamlet of Lower Mitton. The terminus was first called Stourmouth and then Newpor, with the final name of Stourport settled on by 1771.
The population of Stourport rose from about 12 in the 1760s to 1300 in 1795. In 1771 John Wesley had called Stourport a "well built village" but by 1788 he noted that "where twenty years ago there was but one house; now there are two or three streets, and as trade increases it will probably grow into a considerable town". In 1790 he found the town "twice as large as two years ago".
With the completion of the Worcester and Birmingham Canal in 1816, the revenue of the Staffordshire and Worcestershire Canalplunged sharply and from 1812 the population of Stourport scarcely rose, with many male workers leaving the town."